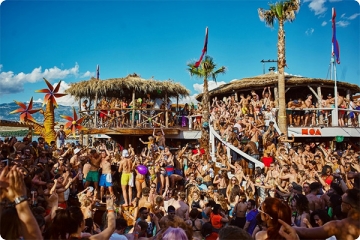 Croatia's most popular beach Zrce has over the last decade become one of the most recognizable beaches in Europe. One of today's most popular summer festival and party destinations – Novalja – is situated on the island of Pag, a very attractive rock-beach island of Croatia.
The Croatian islands are one of the most beautiful coastal regions of the Mediterranean. At first glance the island of Pag seems to be very dry and rocky, but in recent years many Europeans searched for beautiful and new beaches. Especially they wanted to combine relaxing holidays and partying the whole night. In Novalja and Zrce you can find both. But this island also offers more than great beaches. At Zrce Beach lots of world famous clubs let the people forget their everyday life and invite them to dance the whole night.
Transfer services Croatia
Through our online booking you can make a reservation. If you select the return trip, you will get a discount.
Book your transfer now!