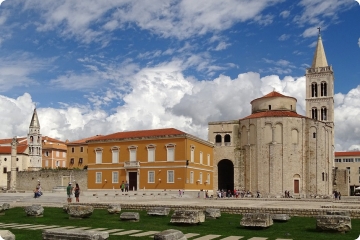 The city of Zadar is a city of exceptional history and rich cultural heritage, a city of tourism. Our website will try to offer you a complete tourist offer, from searching for an ideal accommodation, autochthonous gourmand delicacies, cultural monuments, a variety of excursion programs and numerous tourist activities that the city offers by combining the beauty of the past and all the privileges that the modern traveller demands.
Zadar is a city monument, surrounded by historical ramparts, a treasury of the archaeological and monumental riches of ancient and medieval times, Renaissance and many contemporary architectural achievements such as the first Sea Organ in the world.
The city of Zadar is an easily reached destination by land, sea and air. It has a good traffic infrastructure through which it is directly connected to other bigger cities of the Republic of Croatia and Europe, with extraordinary accommodation and contemporary service of numerous marinas. Whichever way you want to reach Zadar, the natural beauty of the landscape will not leave you equanimous.
The ferry port as well as the new tourist port for cruisers are located on the new and spacious Gaženica port, some 3 km away from the center of the town.
Air transport, even though the airport is small it is contemporary (9 km distance from the center), and connects Zadar with bigger cities of the Republic of Croatia and many European capitals and other destinations.
Situated in the heart of the Adriatic, Zadar is the urban center of northern Dalmatia as administrative, economic, cultural and political center of the region with 75,000 inhabitants. The coast is particularly indented, the islands and the untouched nature allures many boaters to this regions. The archipelago counts 24 bigger and about 300 smaller islets and rocks, 3 nature parks - Telašćica, Velebit and Vransko jezero and 5 national parks - Paklenica, Plitvice lakes, Kornati Islands, Krka and Sjeverni Velebit classifying Zadar and its surroundings at the very top of the Croatian tourist offer.
Transfer services Croatia
Through our online booking you can make a reservation. If you select the return trip, you will get a discount.
Book your transfer now!