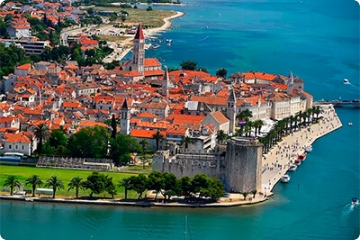 Trogir, a harmonious stone town on a small island that is connected to the mainland and the island of Čiovo by bridges. The old town, under UNESCO protection, is a treasure trove for lovers of art, Renaissance and Baroque buildings, Romanesque churches...
It is called the town-museum which is visible in the famous portal of Trogir cathedral by the craftsman Radovan in 1240, a Renaissance city lodge, the thousand year old Monastery of sv. Nikola [St. Nicholas] which has the ancient famous relief of Kairos preserved in it from the 4th century BC.
The small, narrow streets and small village squares, numerous restaurants, cafes, souvenir shops and galleries, along with numerous cultural and music open air events give this town a special atmosphere of the Mediterranean.
Transfer services Croatia
Through our online booking you can make a reservation. If you select the return trip, you will get a discount.
Book your transfer now!