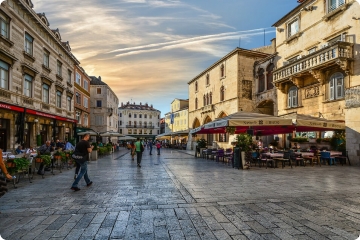 Croatia's second-largest city, Split (Spalato in Italian) is a great place to see Dalmatian life as it's really lived. Always buzzing, this exuberant city has just the right balance of tradition and modernity. Step inside Diocletian's Palace (a Unesco World Heritage site and one of the world's most impressive Roman monuments) and you'll see dozens of bars, restaurants and shops thriving amid the atmospheric old walls where Split life has been humming along for thousands of years.
To top it off, Split has a unique setting. Its dramatic coastal mountains act as the perfect backdrop to the turquoise waters of the Adriatic and help divert attention from the dozens of shabby high-rise apartment blocks that fill its suburbs. It's this thoroughly lived-in aspect of Split that means it will never be a fantasy land like Dubrovnik, but you could argue that it's all the better for that.
Source: www.lonelyplanet.com
Tags:
Transfer services Croatia
Through our online booking you can make a reservation. If you select the return trip, you will get a discount.
Book your transfer now!