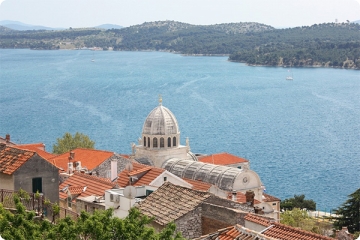 The Central Mediterranean, a fortified town by the sea, the library of the historical sites and culture, protected by the limestone rocks and mountain hinterland, blessed with more than 300 islands, islets, cliffs and reefs in its waters, a rich vineyard treasury united in a unique poetry of the urban centre.
UNESCO: THE CATHEDRAL OF ST. JACOB
Imagine yourself living in the 15th century and looking at the outstanding construction made of white stone blocks in the clouds without any supporting part made of wood or any other connecting material - surely it would seem to you as a dream. Today exactly this construction is the most significant one in the area of Šibenik, built up in precisely 105 years in a unique Gothic and Renaissance style with a frieze of 71 human heads in the exterior, and sculptures and mosaics in the interior – the Cathedral of St. Jacob was enlisted in the UNESCO World Heritage list in 2000.
ŠIBENIK – THE OLDEST ORIGINALLY CROATIAN TOWN ON THE CROATIAN COAST
The fortified town of Šibenik was founded by Croats around the 9th century. Due to the development of the medieval Croatian state the town Šibenik made a progress and it was mentioned for the first time in the 11th century in a document written by the king Petar Krešimir IV. Shortly afterwards there were many different nations fighting for this town – from the Austrian-Hungarian monarchy over Byzantium to Venice, but the town was still making progress, spreading and developing its culture, art, navigation, trade and economy in general. Šibenik was under the Venetian rule for long 400 years, but from that period we have the most significant historical and cultural sites of Šibenik today. Among them is also the main symbol of the Town today – the Cathedral of St. Jacob.
Transfer services Croatia
Through our online booking you can make a reservation. If you select the return trip, you will get a discount.
Book your transfer now!