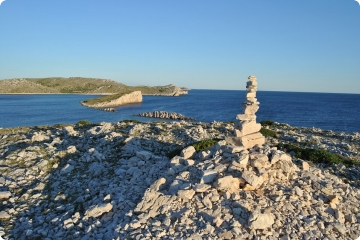 Composed of 140 uninhabited islands, islets and reefs covering 300 sq km, the Kornatis are the largest and densest archipelago in the Adriatic. Due to the typically karstic terrain, the islands are riddled with cracks, caves, grottoes and rugged cliffs. Since there are no sources of fresh water they are mostly barren. The evergreens and holm oaks that used to be found here were long ago burned down. Far from stripping the islands of their beauty, the deforestation has highlighted startling rock formations, whose stark whiteness against the deep-blue Adriatic is an eerie and wonderful sight.
The Kornati Islands form four groups running northwest to southeast. The first two groups of islands lie closer to the mainland and are known locally as Gornji Kornat. The largest of these islands is Žut.
There are about 300 buildings on the Kornati Islands, mostly clustered on the southwestern coast of Kornat.
Source: www.lonelyplanet.com
Tags:
Transfer services Croatia
Through our online booking you can make a reservation. If you select the return trip, you will get a discount.
Book your transfer now!