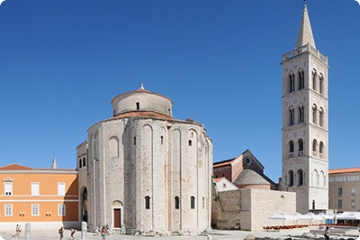 Romans and Venetians had a huge influence on Croatian art and culture. More than a thousand years of influence of Venetians on the coastal regions is visible today. Venice was present in Istria, Kvarner and Dalmatia and helped create a unique Mediterranean culture manifested in music, language, clothing, cuisine and more.
What differs Croatian culture from others are hand-made things, dances, national costumes, music and cuisine. The most important manual work can be found in tablecloth crocheting and sweater knitting, particularly in coastal towns. Many works like You can see on the picture on the left can be seen in coastal and island towns. They have distinctive markings characteristic to particular region or even island or town. You can often see old ladies sitting in front of their homes, knitting and making little pieces of art, just like this one. Such pieces can often be found in national costumes, which are worn in famous folk dances, which originate from customs from Turkish wars. Some of these famous dances are: Moreška (sword dance from Dalmatia) and Kumpanija (fight followed by music). Typical music instruments used in such events are gajda (bagpipes), tamburica (balalaika), kvala and sopila. The national costumes seen in these dances are used only during holidays and ceremonial games, especially in tourist destinations.
Due to its heritage, Croatia has a vast collection of art dating from Roman times and one of the best preserved monuments in the world, such as Diocletian's Palace or the Arena in Pula. There is also heritage from Middle ages, such as Sv. Donat and cathedral of St. Stošija in Zadar, which are fantastic pieces of architecture. Witnesses of Renaissance are cathedral of St. James in Šibenik, the fortress city of Karlovac and many more.
Baroque city of Varaždin is one of the best destinations in inland Croatia. Many tourist visit this city to see the marvels it has to offer. Countless more pieces of art and architecture are Yours to explore once You visit Croatia. Some of the events You will see in Croatia exist nowhere else in the World. Like Sinjska alka – equestrian competition honoring the victory over the Ottoman administration.
Transfer services Croatia
Through our online booking you can make a reservation. If you select the return trip, you will get a discount.
Book your transfer now!